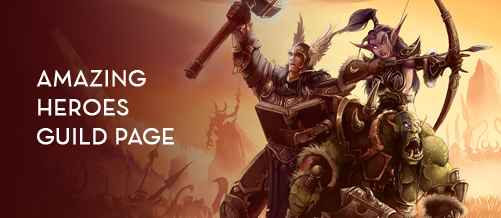 Player Photos   –   Rankings   –   Forums   –   Screenshots   –   Guild Bank FAQ
Amazing Heroes Guild Bank Rules
The guild bank is for all of us to use. If you get a drop that you can't use or if you feel someone else in the guild can benefit from it put it in the bank, IE: you use plate armor and you get a cloth drop. If you have a crafting profession IE: Alchemy, Blacksmith, Engineering, Jewel Crafting, Leather Worker or Tailor, when you are grinding your profession up, put some in the bank for others to use.
You MAY NOT take items to resell

You MAY NOT take items that you can not use. ( stuff to high or too low for your level, class or profession )

You MAY NOT take items to give to toons not in our guild including non guild alts

Please do not take whole stacks of something you may only need a few

PLEASE, do not put Gray items in the bank. if you want to give the bank something and that's all you have, sell them and drop some coin in the bank

If you use the guild bank to repair you should be donating to the bank

If you put gold in the bank it's a donation, not a deposit. Once in the bank it's for the guilds use and may not be borrowed on

Mount loans are for senior members and above who have been in the guild over 6 months

If you see something you need but can't access, PLEASE ask us for it. We don't want to go without something you can use
If you abuse the guild bank you may lose the right to use it.
Please use what you need but remember your guild family has needs as well.
If you are here to steal from the bank you won't be here long.